---
Hundreds arrested as Navalny protests break out across Russia
Hundreds of people have been arrested in Russia as rallies have broken out across the country in demand of jailed opposition leader Alexei Navalny's release.
Thousands of people have taken to the streets in nationwide protests that have rattled the Kremlin, with more than 500 people detained so far.
The rallies, taking place in Moscow and other cities later on Sunday, come after large protests last weekend designed to pressure the Kremlin into freeing 44-year-old Navalny – President Vladimir Putin's most prominent opponent.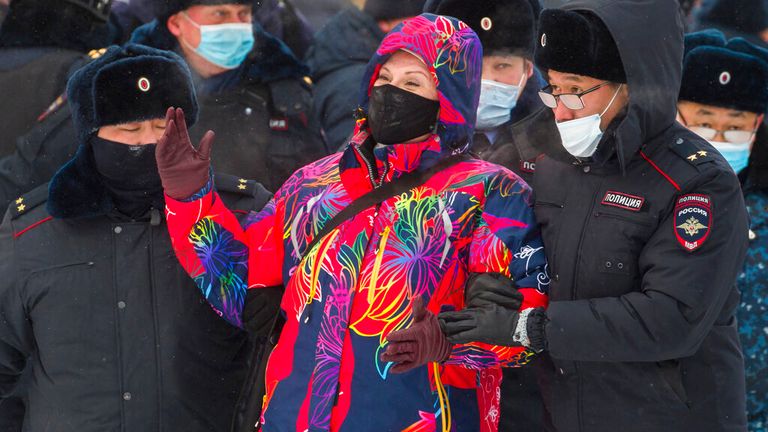 An anti-corruption investigator, Navalny was arrested on 17 January upon his return from Germany where he spent five months recovering from nerve agent poisoning that he has accused the Kremlin of being responsible for.
Sky News' Moscow correspondent Diana Magnay, at the scene of one of the protests, says there is a "vast police presence" acting as a "ring of steel around central Moscow".
She said one demonstrator was detained on the street as she was speaking to him.
Before his arrest, the demonstrator told her he was "not afraid of going out" and "Navalny is the only guy who cares about Russia".
He added he was "sad" that more people did not support Navalny, which he said was "out of fear".
She said central Moscow is currently blocked due to pedestrian traffic and seven metro stations are closed.

© Sky News 2020
---