---
Jobs market 'robust' as unemployment falls
Unemployment has fallen by 27,000 in the three months to February, with the jobs market remaining "robust", according to official figures.
The Office for National Statistics said unemployment fell to 1.34 million (3.9%) and the number of people in work rose to 32.7 million.
ONS deputy head of labour market statistics Matt Hughes said: "The jobs market remains robust, with the number of people in work continuing to grow.
"The increase over the past year is all coming from full-timers, both employees and the self-employed."
He added: "Earnings have now been growing ahead of inflation for over a year but, in real terms, wage levels have not yet returned to their pre-downturn peak."
The figures showed that average earnings increased by 3.5% in the year to February, unchanged from the previous month.
Matt Weston, managing director at recruitment consultancy Robert Half UK, said the growth in employment was resulting in "intensifying competition for talent".
He added: "The demand for highly-skilled workers has led to the emergence of a new trend of 'professional ghosting', as candidates feeling the benefits of the burgeoning 'buyer's market' field multiple, competitive job offers – in many cases, abruptly cutting off contact with prospective employers.
"To tackle these difficulties, employers must think about the entirety of their recruitment process, streamlining hiring processes, maintaining frequent communication and offering compelling remuneration and benefits to secure candidates with the skills they need to thrive and grow."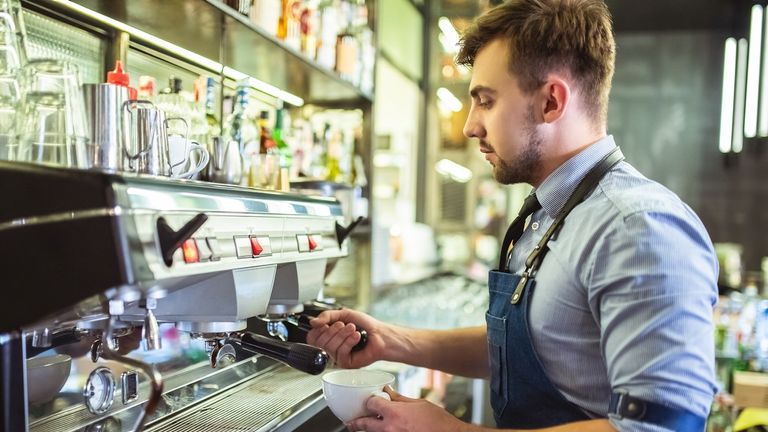 Image: The increase is all coming from full-timers, according to the ONS
However, the Institute of Directors warned that government should not be complacent.
Tej Parikh, senior economist at the IoD, said: "The labour market remains a silver lining for the economy – but the jobs boom can't last forever.
"Businesses have continued to recruit, despite the ongoing can-kicking on Brexit.
"Even as record numbers have entered work, vacancies have kept growing, so it has become increasingly challenging to fill new positions.
"The elongated period of uncertainty has kept businesses in a hiring cycle. Many firms have lacked the confidence to put funding toward training, technology, and new machinery, which has in turn meant firms need to hire more workers to lift output.
"Without a pick-up in investment, low productivity will also keep wages from growing further, particularly when considering the higher regulatory costs businesses are facing this tax year.
"High employment should not lull policymakers into a false sense of security, business leaders need clarity on Brexit and faster progress on the government's skills and productivity agenda."
More follows…
---