---
Volcano erupts near Iceland's capital after weeks of seismic activity
A long-dormant volcano in southwestern Iceland has come back to life, following thousands of small earthquakes in recent weeks.
The volcano is on the Reykjanes Peninsula and the eruption is the first in that part of the country for nearly 800 years.
Lava has been spilling down two sides of the volcano and its glow can be seen from the outskirts of Iceland's capital Reykjavík, which is about 20 miles away.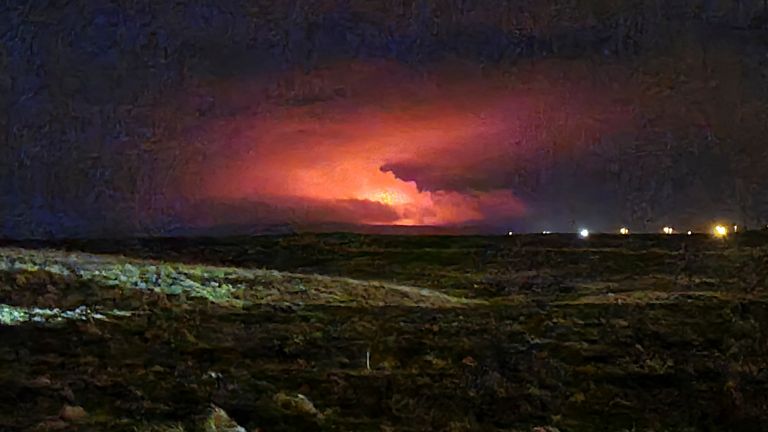 Earthquakes had been occurring daily for the past three weeks, with many hundreds of tremors in recent days.
The Fagradals Mountain volcano had been dormant for 6,000 years, and the Reykjanes Peninsula hadn't seen an eruption of any volcano in 781 years.
Iceland's Department of Emergency Management has said it does not anticipate the need to evacuate nearby towns, as the volcano is in a remote valley.
The National Commission of Police's Civil Protection Department said volcanic gas pollution is expected to extend as far as Thorlakshofn, a town on Iceland's southern coast, and continue into the night.
It said residents should close windows and stay inside their homes.
The country's airports operator Isavia said airlines should decide how to proceed based on the ash cloud forecast.

© Sky News 2020
---